Carolyn Swanhall
Experience Designer

Client
WriterAccess is an online platform that connects companies with freelance writers, editors, translators, and content strategists.

Problem
New and returning talent have expressed frustration with finding steady work on the WriterAccess platform, while clients have voiced concerns with finding the best talent and level of quality work for their long-term needs.

Solution
Over the course of four weeks, design a module in the WriterAccess platform that facilitates off-platform, full- and part-time placement opportunities, while building stronger communication and trust between WriterAccess' clients and talent.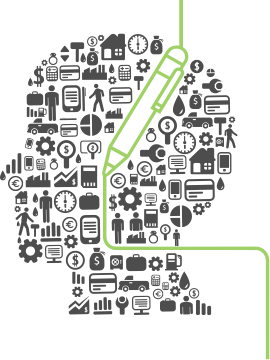 Client Goals
Strengthen the trust of clients in the WriterAccess platform and talent by providing opportunities for long-term working relationships

Increase the retention of active WriterAccess talent by providing more opportunities for on-site and remote work

Ensure that the WriterAccess platform remains the primary form of communication between clients and talent

Develop a system for clients to request off-platform access to talent from WriterAccess with an attached buy-out fee
Competitive Analysis
To learn more about the existing experience for both clients and talent, I conducted a competitive analysis to identify the key features that help build trust and communication between talent and those hiring for freelance, part-time, and full-time positions.

My analysis included a review of freelance and full-time job boards with roles similar to those on WriterAccess, including Hired, Remote, Upwork, and Scripted.
Features included:
The type of roles available (full-time, part-time, freelance, and/or contract)

Locations available (remote, on-site)

Profile options available (professional statement, links, salary requirements, samples, etc.)

Built-in features (email notifications, recommendations)
User Interview
I observed an interview with a client and members of the Customer Success and Product teams at WriterAccess. This client had previously expressed interest in hiring a WriterAccess talent on a full-time basis and was happy to provide further insight into their motivations, needs, and existing user pain points when reviewing and hiring freelance writing talent.
From these conversations, I was able to identify what areas of the existing platform could be improved and how users felt that the WriterAccess platform (and its employees) could help facilitate stronger communication and thereby increase the quality of work and overall experience for talent and clients.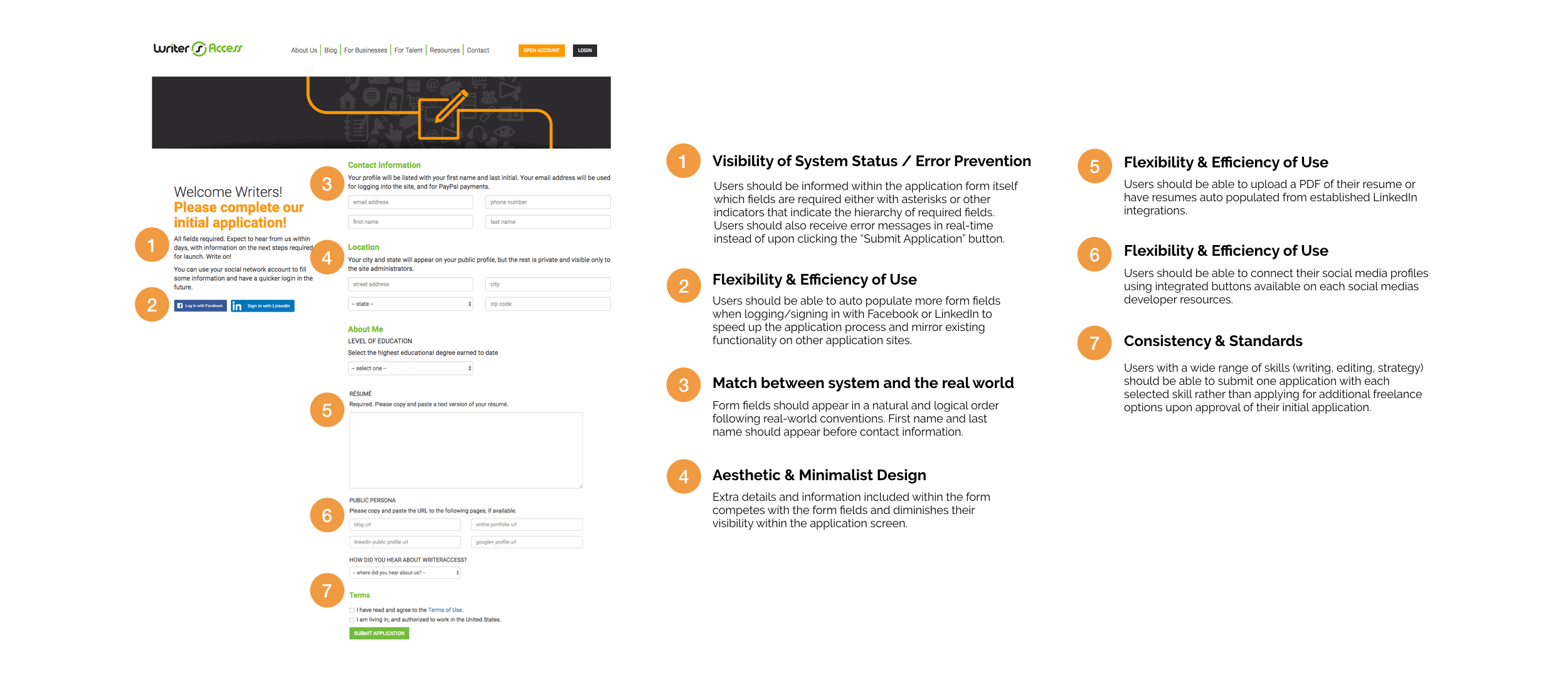 User Flow & Heuristic Analysis
I mapped out the existing user flow for new talent registering on the WriterAccess platform and conducted a heuristic analysis to identify areas that the talent application and onboarding experiences could be improved based on existing design principles and trends.
This evaluation of the existing talent experience provided valuable insight into how to improve the usability of the existing writer application process, and where in the existing onboarding experience talent could be asked about their interest in full-time or part-time opportunities.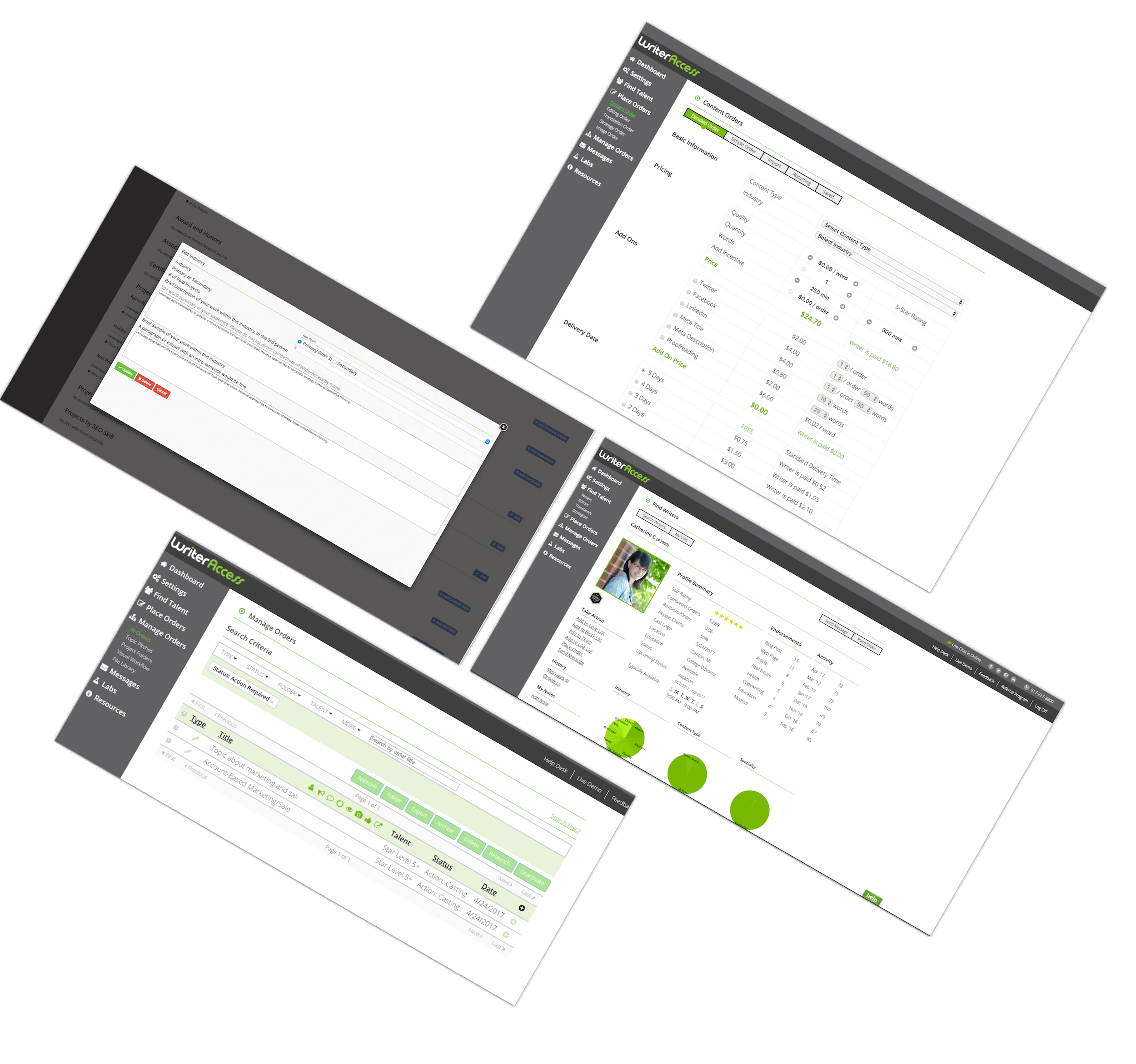 Wireframes
Given the existing complexity of the platform, I began with identifying existing design components, creating a design system in UXPin, and determining how to utilize these components within the new module.
Over the course of the iterative process, the team focused on establishing a way for clients to buy out a specific talent's WriterAccess contract, developing systems for talent and clients to track the status of requests and offers, and increasing the usability of the platform's conference call system.

New User Flow
In the final iteration, both WriterAccess talent and clients could view and manage opportunities from their existing WriterAccess workflow and be able to send message and schedule conference calls using a new form system.
Talent
Talents' interests in full- and part-time opportunities would be triggered during the initial application and captured on a new tab in their profiles where clients could view their interests and complete a familiarly-designed form to pitch opportunities to talent.

Client
Clients would have the same initial application and setup process on the WriterAccess platform, but with the updates to the sections in the Talent profiles, they would now be able to view a Talent's interests, complete an Offline Pitch form to begin the negotiation process, and then buy out a contract with support from the WriterAccess team.