Carolyn Swanhall
Experience Designer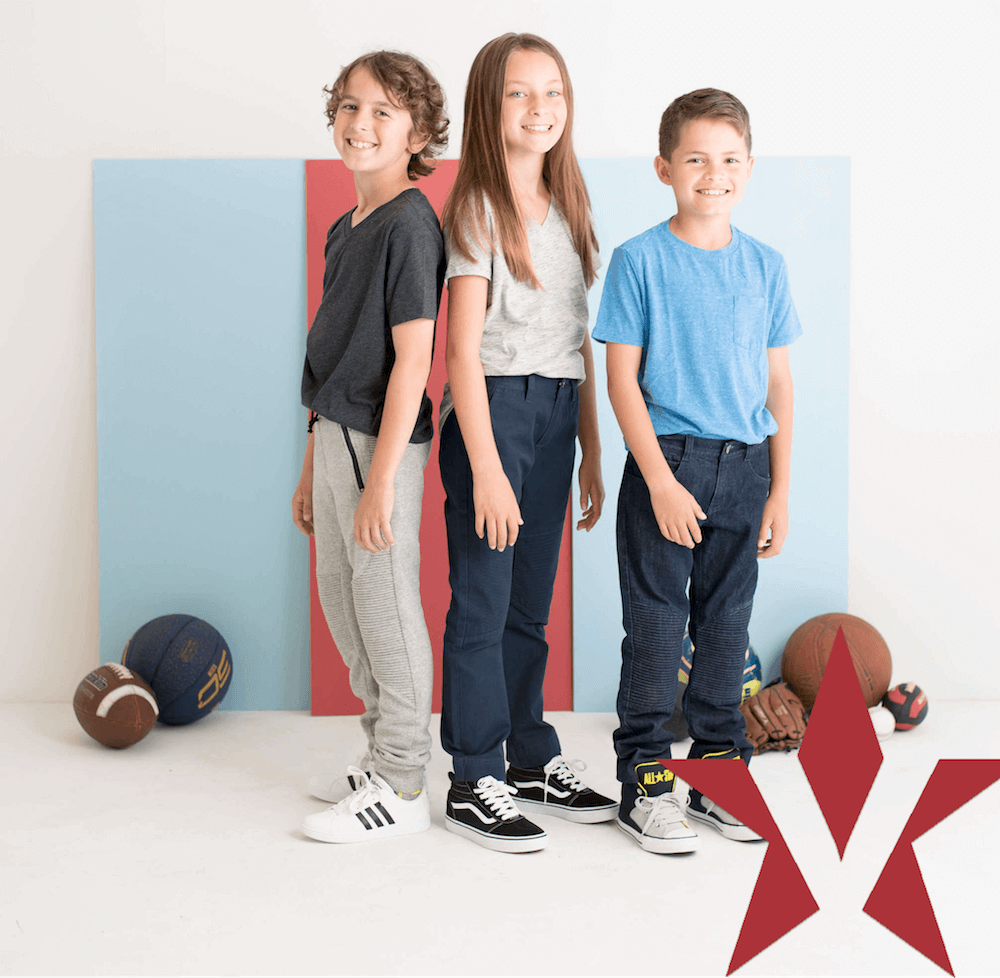 Client
Victornee is a children's clothing line designed for children ages 4 to 12. Victornee's founder is an experienced fashion and textile designer who turned her personal pain point of having to constantly repair and/or replace her son's pants into a children's clothing business. Victornee's line of children's jeans, khakis, sweats, and leggings feature patented reinforced knees and launched in Winter 2017.

Scope
I was contracted by flux+flow to provide UX Research and Content Design services to validate Victornee's product and test the design of the Victornee website.
Methodology
My work was completed over the course of several one- to two-week sprints focused on:
Discovery
Content Strategy
Content Design
User Testing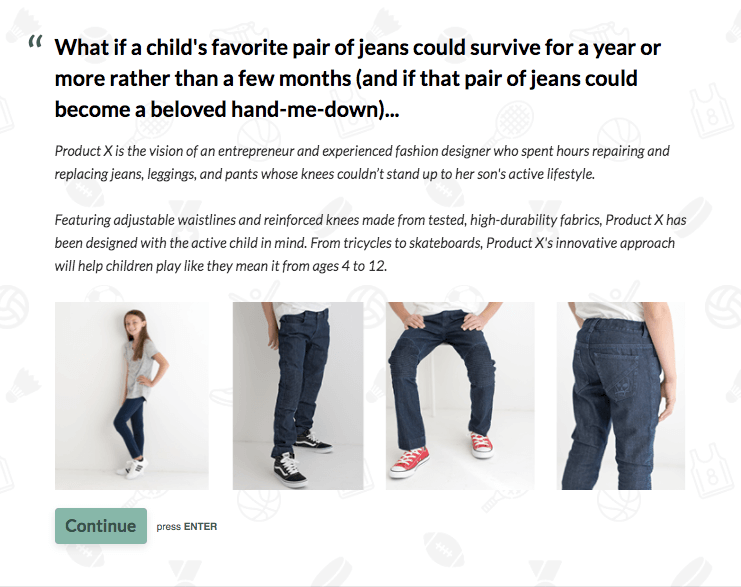 Survey
To validate the product-market fit for Victornee's line of children's pants, I designed and distributed an online survey for insight into parent's pain points around children's clothing and the experience of shopping for children's clothing.

The survey was distributed over various social media and Slack channels and received 240 responses.
62%
shop in-store vs. online
68%
shop once a month (30%) or every few months (38%)
42%
registered for Victornee launch updates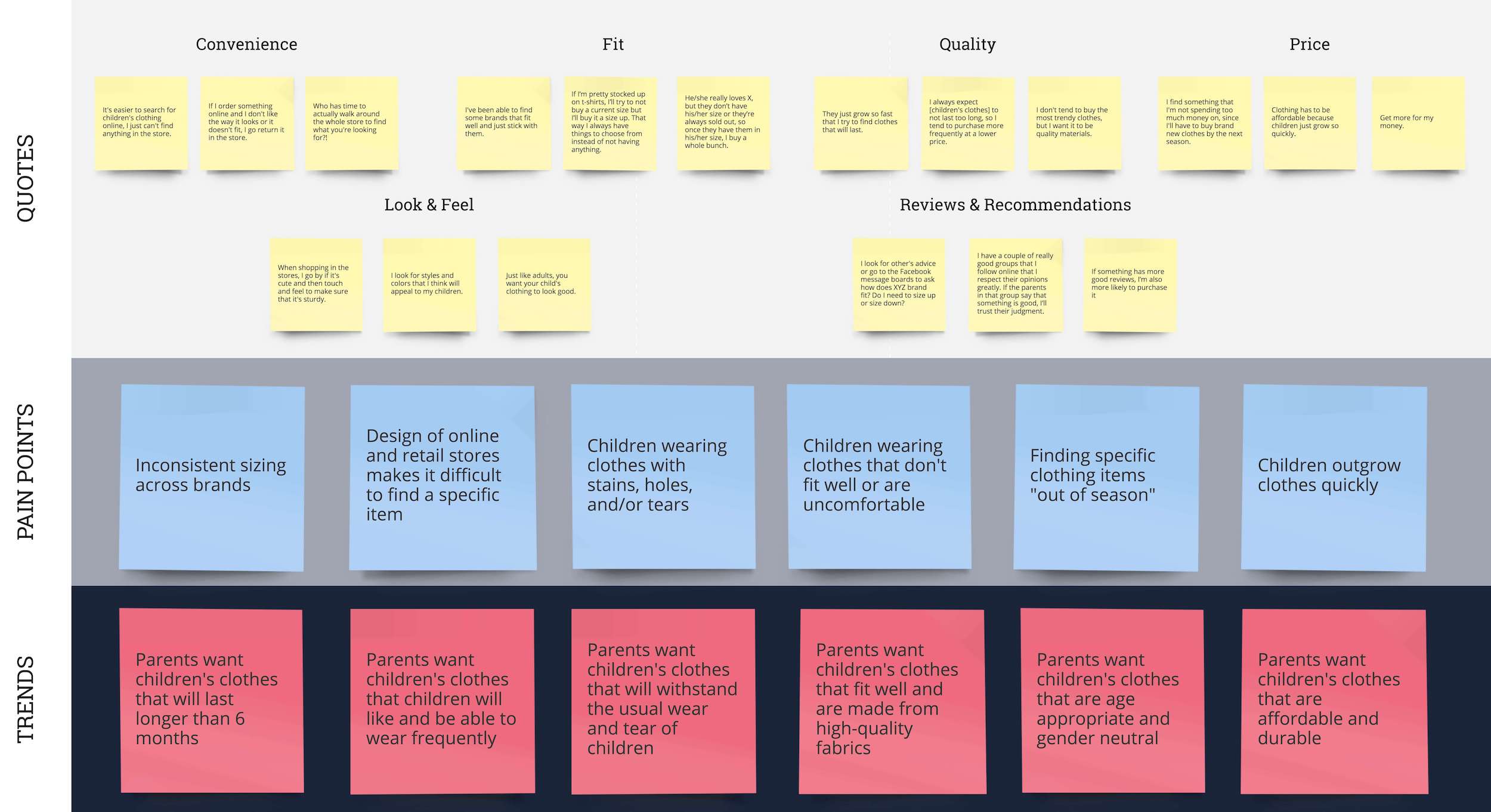 Interviews
Remote video interviews were conducted with Victornee's ideal users - parents of young children who describe their children as "active" - to provide further insight into parents' pain points and motivations when buying clothes for their children.
Affinity maps revealed key insights that parents want children's clothing to be durable, affordable, and easy to buy.

Social Media
The Discovery stage also revealed the importance of social media in helping parents discover new brands and read reviews of children's products.
Research demonstrated that children's brands can leverage social media to engage, inspire, and connect with parents, with content focused on testimonials and portraying products in real life.
A social media strategy session provided Victornee's founders with an overview of the social media strategy, including best practices, suggested content, hashtags, and influencers.
Influencers
Product reviews and recommendations motivate parents to buy children's clothing online. With nearly 5 million mommy bloggers and over 12 million readers, this segment of influencers holds huge potential for Victornee.
Research was conducted to identify top mommy bloggers and parenting groups that could help increase Victornee's social media reach and engagement at the local, national, and international level with potential to engage these influencers in future Victornee campaigns, giveaways, and promotions.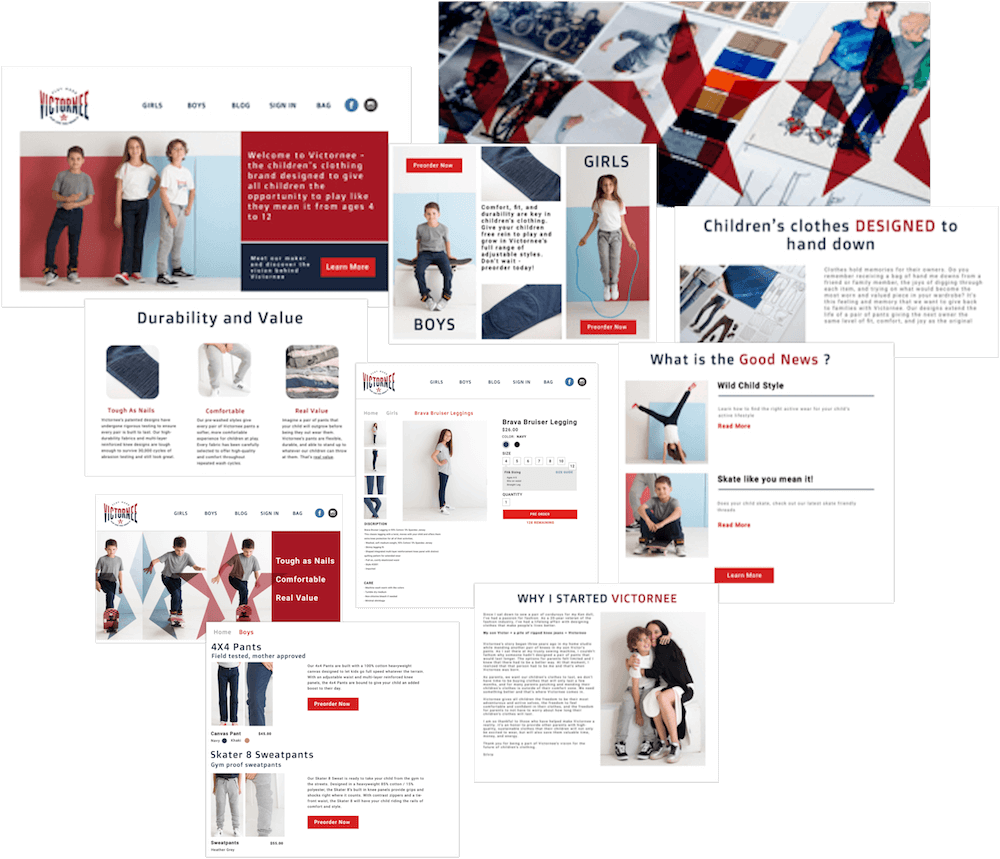 Strategy
Based on the user personas and prototype designed by the UX Designer on this project, the content strategy focused on building trust with parents and engaging them with Victornee's brand.
A half-day workshop was held with Victornee's founder to share the results from the user research and to brainstorm the voice, tone, and suggested content of the Victornee website.
Goal
To build trust and connection between Victornee and its users by crafting content that is friendly, authentic, family-focused, and empowering.
Guiding Principles
To capture the founder's personal story to build trust and engagement with other parents
To emphasize the durability and longevity of Victornee's products to connect to parents' existing pain points
To share Victornee's core values of style, sustainability, and social impact to position Victornee as a brand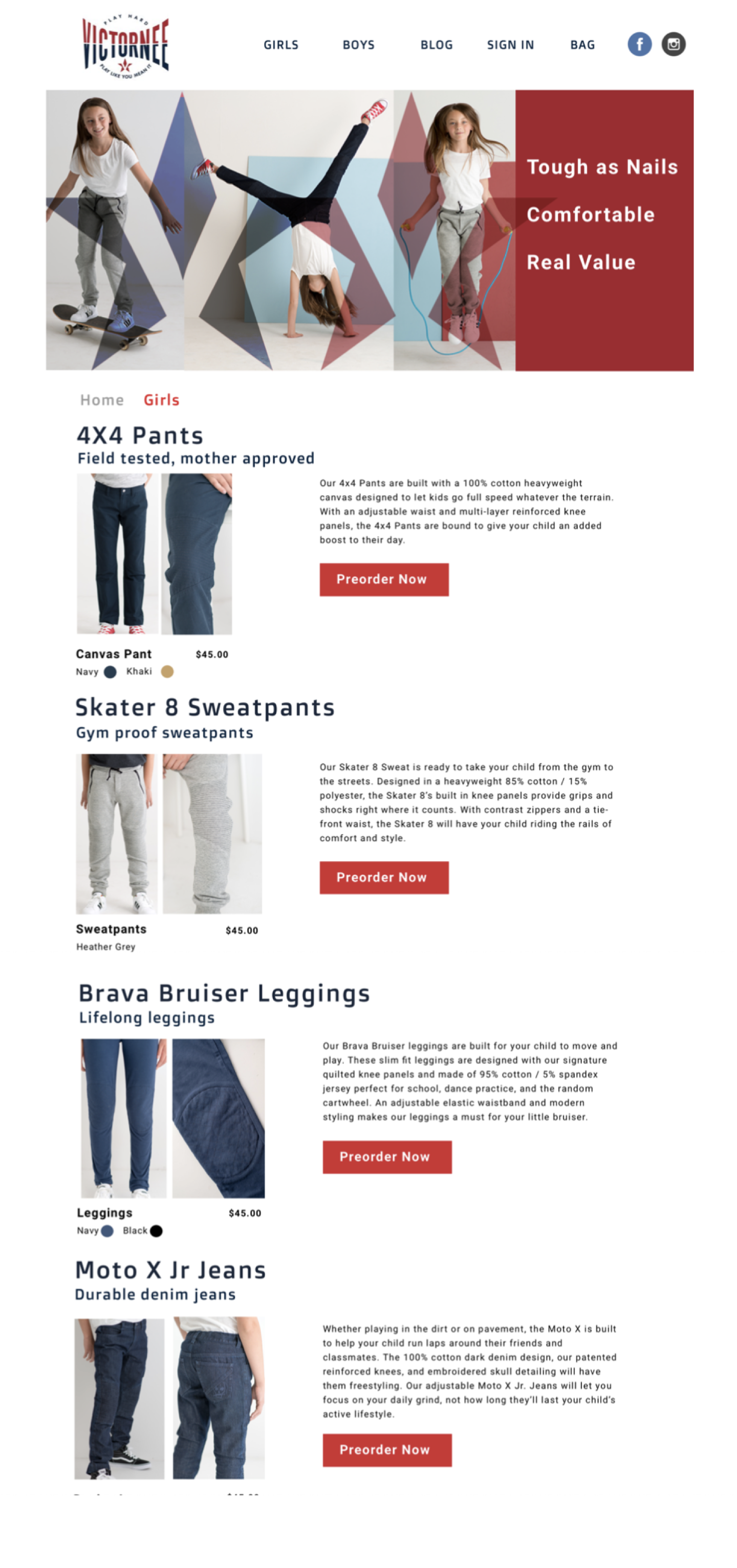 User Testing
The Victornee website prototype was tested with five (5) of Victornee's target group to ensure ease of use and to gain additional insights into the effectiveness in the content design .

Findings
Users were able to find and add products to their shopping cart with limited friction
Users had positive impressions of the Victornee brand based on the product's ability to address their current pain points
Users were interested in the founder's personal story and demonstrated interest in building a connection with the brand (blog, social media, etc.)

After sharing the high-level findings from the user testing, I met with the UX designer to discuss future iterations of the design based on the results:

Users indicated that it was unclear what ages/sizes Victornee's products were designed for - The age range was made more explicit in the content design on the landing page
Users mentioned a lack of diversity in age and race of the children featured on the site - Victornee team to address during next photo shoot
Users expressed interest in having parents contribute personal stories to the Victornee blog and social media - The contact form was updated to solicit these ideas and included in the updated content strategy
Users expressed interest in additional color options for Victornee's products - Plan future campaigns to give users opportunity to vote for new colors
Users attempted to click on header text within the product pages - Removed text from images on product description pages
Users expected to see additional suggested products below selections on the product pages - Added section to product item pages